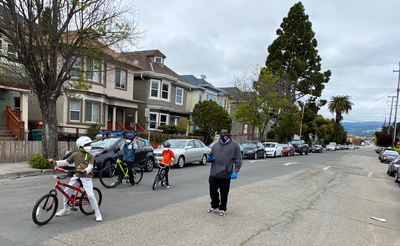 Read the full story at teh Department of City and Regional Planning news site
Continuing Master of City Planning students in the Department of City and Regional Planning will be continuing their research this summer by participating in one or two group projects with a community client and faculty mentor.
Nearly all of the projects were created by DCRP alumni now working in prominent government agencies or community-based organizations.
Where will we find students this summer?
Many will be working to evaluate Oakland's Slow Streets Program. which supports safe physical activity by creating more space to comfortably use low-traffic streets for physically distant walking, wheelchair rolling, jogging, and biking. 
Also in Oakland, students will be working to investigate the potential for delivery companies such as DoorDash and UberEats to leverage their services beyond restaurant deliveries in order to support Oakland's small businesses.
At Caltrans, students will examine the potential for e-bikes in California and make recommendations on how to integrate them into existing transportation systems.
Also for the state government, a group will develop recommendations for how to better support regional planning under SB 375.