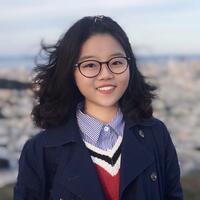 Congratulations to Lu Dai, a Civil and Environmental Engineering doctoral candidate, who is amongst the top 20 womxn graduates or soon-to-be graduates in the fields of Civil and Environmental Engineering chosen to participate in the Massachusetts Institute of Technology Rising Star Workshop
"Receiving this opportunity is such an honor," says Dai. "I am looking forward to meeting and learning from those is established careers and the next generation of academic stars."
The Civil and Environmental Engineering Department at MIT invites 20 top early career womxn in CEE and related domains (e.g. materials, systems, or environmental science) who are interested in careers in academia to apply to the CEE Rising Stars Workshop on the MIT campus.
The 2021 Rising Stars Workshop will be on October 28-29, 2021. Note that the event will be in-person. If the pandemic precludes visitor travel to MIT, the workshop will be moved to Spring of 2022.
The event brings together the next generation of CEE academic leaders for two days of scientific interactions and career-oriented discussions. It will feature research presentations by the participants, faculty talks, panels on issues relevant to academic careers, and opportunities for informal networking with faculty members at MIT. 
Civil and environmental engineering tackles problems in diverse areas related to the development of sustainable cities and local-to-global scale environmental issues. 
Dai is developing innovative methods to detect flights at high risk for anomalous events near airports, such as go-arounds and unstable approaches. She is also a graduate researcher at the Federal Aviation Administration focusing on Quantification of Traffic Flow Management Operational Needs and at the Berkeley Lab focusing on Quantifying Traffic Influences on Pandemic Spread. Previously she was a Graduate Researcher at NASA Ames Research Center working on SMART NAS NRA: Big Data Analytics for Aeronautics. Her research focus lies in Machine Learning and Statistics.
"I am very impressed with her strong leadership ability," says advisor professor Mark Hansen. "This is a natural next step as she plans her career."