As Department of City and Regional Planning seniors Flore Mountsambote andEdgardo Vazquez are exploring their next steps, participating in the 26th Annual CTF Transportation Education Symposium helped them gain a better sense of the transportation world, leadership and graduate school with industry professionals.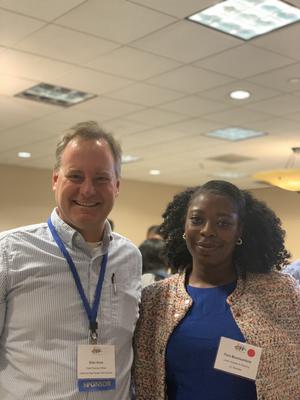 Mountsambote and Vazquez, together with 39 other top California University students, were mentored by transportation industry leaders on Nov. 5-6, 2019 in Ontario, CA during the conference. Both students were recommended by City and Regional Planning professors: ITS Associate Director Daniel Rodriguez and ITS affiliate Karen Trapenberg Frick for the conference.
"I've always been interested in transportation, but this really opened up to so many new opportunities," says Mountsambote. "It was really interesting to learn about how planners, engineers and policy makers all work together to create these systems."
Since Mountsambote took her first bus in high school, she has been interested in how transportation systems work, how people commute, and the planning behind it. At the conference, she was mentored by Brian Annis, Chief Financial Officer of the California High-Speed Rail Authority, and enjoyed working with undergraduate students studying policy, engineering, and planning for small group projects.
"It was a really great opportunity to look at all the components that go into transportation planning and to get real advice on my options after graduation, career choices, and graduation school options," says Vazquez.
Vazquez, mentored by Brad Paul, Deputy Executive Director for Local Government Services at the Metropolitan Transportation Commission, also enjoyed working in small groups with different disciplines and networking with other students and mentors alike during the conference.
"I was so impressed with the people we met and the advice they gave to us," says Vazquez. "Networking was such an important part of the conference."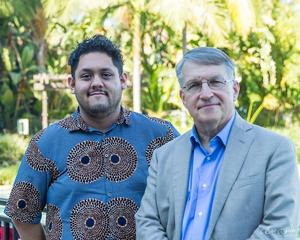 While the conference took on a formal structure, Mountsambote said some of the sessions were fairly relaxed, allowing informal discussion around career advice, when or if you should go to graduate school, how to stand out in an interview, how to get a job, resume advice, and more.
"We were really able to talk with them and ask questions that you can't always ask in other settings," says Mountsambote. "It was a good opportunity to get to know them and ask questions, to see how they did things, how they got to where they are, and talk about transportation."  
For now, Mountsambote is busy wrapping up her Urban Studies degree, which she completed in three and a half years and going on job interviews. Previously the Congo native who has spent a majority of her life around the Bay Area, she interned at the Transportation Sustainability Research Center as an undergraduate. She is thinking about returning to Cal for a Master in City Planning.  She recently won outstanding undergraduate student of the year at ITS Berkeley and she earned a $1,000 scholarship from the CTF Symposium.
Vasquez, a San Rafael, CA native, will be completing his Urban Studies degree in May and will be considering going to graduate school or starting his career right away. He is also an Ambassador for the College of Environmental Design.