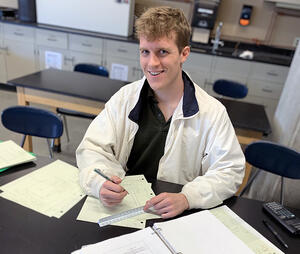 This article originally appeared on the NICR website: https://nicr.usf.edu/2021/06/17/wesley-darling-university-of-california-...
Wesley Darling
Hi, my name is Wesley Darling, and I am an entering PhD student in transportation engineering at the University of California Berkeley. I just completed my MS in transportation at Berkeley in the spring of 2021. Before Berkeley, I studied civil engineering at the University of Tennessee, Knoxville. Prior to my time at UTK, I studied business administration (with minors in screenwriting and physics) at the University of North Carolina at Chapel Hill.
Why transportation?
I initially became interested in transportation because I was fascinated that you could model human/vehicle travel behavior and patterns using a pretty simple set of physics equations (it's sort of a long story, but it involved learning about queueing theory in an operations class I took in business school). Just the idea that something as complex as where, why, and how people travel could be boiled down to a few lines of math was incredibly compelling to me. I had taken physics classes in the past and always had difficulty because I couldn't "see" what the equations were doing, but in the transportation application, I could actually visualize how changing different variables affected the system more clearly.
As I've grown to learn more about the field of transportation (and trust me, I still have a lot to learn), it's become very clear to me that transportation is much, much more complex than a simple set of equations, and much, much less objective than a few lines of math. My coursework this year and my experience working with Professor Shaheen have really broadened my definition of what transportation is—I've learned that so much of transportation can't even be explained with equations, and it's more about policy and how people affect and are affected by transportation systems from the past, present, and future. But that visualization component—the fact that we can see how this cause and effect works in real life—remains.
In short, I like transportation because it can be defined so simply and objectively, but also so complexly and subjectively, and this duality exists throughout all transportation work. It's the physics that underpins how the system works combined with the story that the system tells that makes me so interested. And as you can see, that combination makes good use of my physics and screenwriting minors!
Since August 2020, I have been working with Susan Shaheen, PhD, on a project for NICR related to transportation network companies (TNCs) (e.g., Uber, Lyft). In the fall, I will begin working with Professor Michael Cassidy, who will be my doctoral research advisor, and I will likely continue to conduct research on TNCs.
What are you currently working on?
I am currently working on a project for NICR that explores how users of TNC services perceive the locations where they wait for pick-up/drop-off, with a particular focus on how these locations could be improved to increase the amount of pooled TNC trips (i.e., where multiple passengers are picked up and dropped off along a shared route, such as Uber Pool, Lyft Shared) and pooled TNC trips where users walk a short distance to their pick-up location (e.g., Uber Express Pool, Lyft Shared Saver). We are also exploring how TNC users connect to public transit, and how incentives like promotions and discounts could be used to increase pooled trips. The overarching goal is to develop a set of strategies that can be implemented by TNC services and stakeholder organizations to help increase the occupancy of TNC trips and hopefully lead to fewer personal vehicles on the road and a reduction in traffic congestion.
We are using a unique methodology (at least for the field of transportation engineering) to explore how TNC users perceive their waiting locations called the photovoice methodology. Photovoice was originally developed for the field of public health (though it more recently has been used in studies in sociology and city and regional planning). It involves study participants taking photographs of their communities, sharing the photographs with the researchers and other study participants, and discussing their thoughts and perceptions about the content in the photographs, as well as sharing stories and personal experiences the discussion inspires.
For the NICR study, we asked TNC users to visit locations where they have been picked up by TNCs and to take and share pictures of the locations as well as the built environment features at those locations. We then held small group discussions with the users (virtually, of course) to learn more about what they liked and disliked about waiting at the locations, and how the locations could be improved. From these discussions, we have identified many unique insights into the role that the built environment at TNC pick-up locations plays in a user's decision to take a pooled versus a private TNC trip.
Why did you want to pursue a PhD?
I knew I wanted to pursue a PhD after receiving my BS (with the MS in between) because of how much I have enjoyed conducting research. I was given an opportunity at the University of Tennessee to help out with a transportation research project, and I really just fell in love with it from there. I love to learn new things and being involved in research is essentially learning new things all the time. From that early experience, I knew I wanted to pursue a career path that involved doing research professionally, and the preparation and skills one develops working toward a PhD seem like an invaluable way to get ready for such a career. I am entering the PhD program in the fall of 2021, and I hope to be able to complete it in three or four years.
I'm sure in a couple of years, I will know more about which field I want to pursue, but I know I want to be in the research field. I would like to work in a role that has some sort of teaching or mentorship component. I really owe a lot to the instructors and advisors I have had along my academic journey, and I would love to have the opportunity to be that person for someone else down the line. Academia with a faculty role would be a natural combination, but I could also see myself working as an applied scientist for an organization that offers some sort of community outreach or mentorship program.
What has been your favorite memory at UCB?
One fond memory was finally meeting my classmates and professors in person this May after a whole year of only interacting via Zoom. Another fond memory was going skiing with some classmates from the TE program and getting stuck on a run with moguls (the big snow bumps) with a fellow less experienced classmate and having to be coached down the mountain by two of my more experienced classmates.
What do you think transportation will look like in 2050?
Flying cars and robot chauffeurs! Just kidding…I think transportation will still look a lot like it does today. That said, there are a few differences I hope will exist, many of which are linked with one another:
I would love to see transportation in America become a seamless experience. I know some cities in Europe have been successful using a Mobility as a Service model, and I would love to see that become a reality in US cities. Things like seamless transit systems, better integrated first- and last-mile connectivity, mobility wallets, and simply just expanded public transit networks.
I hope the land-use changes we're making today reach fruition by 2050 (or before) and US cities become denser, more walkable, and easier for people to access everything they need without using a personal car.
I hope car ownership becomes a hobby instead of a requirement for living and working (as is the case in many cities). It would be great for everyone to use various forms of shared mobility and public transit for all their day-to-day needs and then carshare, rail, and air for all longer-distance travel.
I think all vehicles will be electric or use an alternative fuel. I think we'll have cool "gas" stations that will have universal electric charging stations as well as hydrogen fuel cell stations all in one.
I think the "megaregion rail networks" will exist and the bones of a fully connected US high-speed rail network will begin to form.
What do you like to do outside of academia?
Right now, I play bass guitar for my friend's band, The Kedar Dange Group (virtually, since it's bicoastal). I also enjoy hiking, watching movies, writing (screenplays and short stories), and trying new restaurants.
You can find more about Wesley Darling at https://www.linkedin.com/in/wesley-darling/