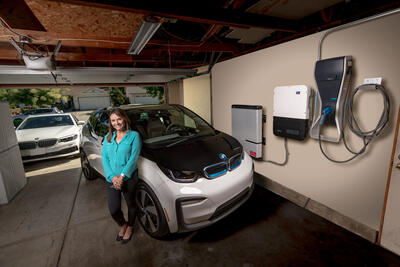 By changing charging behaviors of electric vehicle owners, a new BMW North America, Pacific Gas and Electric Co. (PG&E) and UC Berkeley Transportation Sustainability Research Center (TSRC) report shows users can reduce their energy bills and greenhouse gas emissions. 
"This initial report highlights key findings that can help shape electric vehicle charging patterns that will have a big impact on energy grids, consumer power bills, and the environment," says Dr. Timothy Lipman, TSRC Co-Director.
The summary report, BMW ChargeForward: Electric Vehicle Smart Charging Program, resulted from a 3-year electric vehicle (EV) smart charging study was released on July 8, 2020 by BMW North America, with primary project partners BMW, PG&E and TSRC at the Institute of Transportation Studies at UC Berkeley.
The effort was led by Adam Langton and Alissa Harrington (BMW), Karim Farhat (PG&E), and Lipman at TSRC. Additional project partners included Olivine Inc. and Kevala Analytics, Inc. 
The $4 million study, funded by the California Energy Commission (CEC), began in early 2017 and concluded in March 2020, with over 400 EV-owning households around the San Francisco Bay Area participating. It explored over 15 use cases for vehicle-grid integration (VGI) with potential for significantly positive economic and environmental benefits for EV owners, grid operators, and the California public.  
The study found that each participating EV could provide:
Over $300 per year in combined benefits of improved grid operations:

About $110 per year in grid operational cost savings
About $150 per year in additional distributed resource benefits
An example future $57 per year in GHG reduction benefits

Reduced greenhouse gas (GHG) emissions by optimizing EV charging across times and locations and within driver mobility constraints.
When GHG reduction was the main target, each vehicle could on average save about 300 kilograms of GHGs per year. When renewable energy resources were the main target, each EV could absorb about 1,200 kWh of additional renewable energy that otherwise would have been wasted through grid resource "curtailment" events.
Study highlights:
Smart-charging EVs have the ability to reduce greenhouse gas emissions by an additional 32% on average in Northern California studies. 
Smart charging can enable EVs to accept an additional 1,200 kWh of renewable energy per vehicle per year. This is the equivalent of 3,500 to 5,000 miles of additional zero carbon travel.
Telematics data from automakers are a critical enabler of smart charging programs as it provides a holistic view of a driver's mobility needs and helps facilitate daily charging during non-peak hours. 
ChargeForward vehicles can create an average of $325 in estimated grid savings annually per vehicle in California.
A comprehensive project report for the ChargeForward 2.0 project is under review by the CEC and is expected to be released in late 2020. A next ChargeForward 3.0 phase is currently being explored with potential expansion to other areas of California along with the SF Bay Area.
Report link: https://bmwmovement.org/bmw-releases-chargeforward-report/