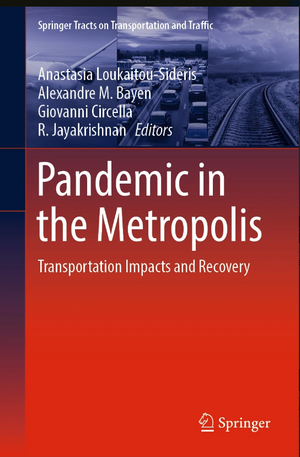 Springer Publications recently published
Pandemic in the Metropolis: 

Transportation Impacts and Recovery
Editors:
About this book
This book brings together reports of original empirical studies which explore the impacts of the COVID-19 pandemic on urban mobility and transportation and the associated policy responses. Focusing on the California region, the book draws on this local experience to formulate general lessons for other regions and metropolitan areas. 
The book examines how the COVID-19 pandemic has had different impacts on vulnerable populations in cities. It explores the pandemic's impacts on the transportation industry, in particular public transit, but also on other industries and economic interests that rely on transportation, such as freight trucking, retail and food industries, and the gig-economy. It investigates the effect of the viral outbreak on automobile traffic and associated air quality and traffic safety, as well as on alternative forms of work, shopping, and travel which have developed to accommodate the conditions it has forced on society.
With quantitative data supported with illustrations and graphs, transportation professionals, policymakers and students can use this book to learn about policies and strategies that may instigate positive change in urban transport in the post-pandemic period.