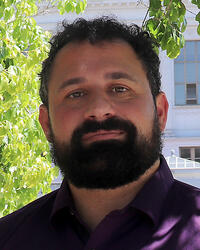 California Partners for Advanced Transportation Technology (PATH) would like to welcome Dr. James Fishelson as the new Executive Director.
"I am very excited to welcome James on board," says PATH Faculty Director Scott Moura. "He brings a strong research background, innovation and enthusiasm to PATH. I look forward to working with him as we continue to build on PATH's strong legacy."
Most recently, Fishelson worked at Ford as the Mobility Research Manager, where he led a team of researchers and scientists with backgrounds in transportation engineering, data science, urban planning, optimization, and more, focusing on modeling the impacts of new mobility solutions from nano to macroscopic scales across different cities: connected vehicles, driver assist technologies, micromobility, first-mile last-mile shuttles, automated taxis, and more.
"This is a dream job for me," says Fishelson. "I really enjoyed working in industry, but I missed the academic side of research. This is the perfect spot to do the research that can really make a difference."
While at Ford, Fishelson worked with several different industry, government, and academic groups, including ITS Berkeley researchers. He worked on a variety of new and innovative mobility areas including autonomous technology, simulators, travel demand modeling, geofencing, equity issues, commercial fleets, traffic simulations, 3D virtual displays, and more.
Fishelson is making the transition to UC Berkeley and will be working in a combination of remote and on campus as he gets settled.
Fishelson earned his PhD in Urban and Regional Planning at the University of Michigan, his master's degree in Transportation Engineering at Utah State University, and his bachelor's degree in Chemistry and International Studies at Yale University.