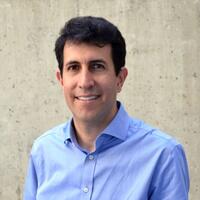 Rails-to-Trails Conservancy (RTC) recently welcomed urban transportation and environmental planning expert Daniel A. Rodríguez to its board of directors.
Daniel A. Rodríguezis a chancellor's professor of city and regional planning and the interim director of the Institute of Transportation Studies at the University of California, Berkeley. His research is focused on the relationship between transportation, land development, and health and environmental consequences, with a goal to find solutions to practical problems for planners and policymakers.
"Towns, cities, regions and states are grappling with complex challenges rooted in transportation, climate and the well-being of the people they serve. How places are designed—and whether they make it safe and convenient for people to walk, bike and be active outside can make all the difference," said Ryan Chao, president of RTC. "Daniel's expertise will bring unique and powerful insights to help the trails movement continue to position itself as critical to addressing some of the most pressing challenges communities face."
Professor Rodríguez's extensive background and past research work and writings—from evaluating urban cycling traffic stress and safety in the United States to a five-year study on how to create healthier and more sustainable cities in Latin America—will inform RTC's progress on building trail networks around the country.
More information about RTC board members and staff can be found at railstotrails.org/about