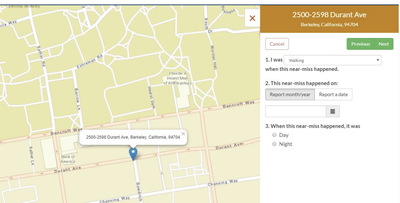 Congratulations to the Safe Transportation Research and Education Center (SafeTREC)'s Street Story Team for earning a 2019 Larry L. Sautter Award for Innovation in Information Technology from the University of California.
The Street Story - A Platform for Community Engagement team of Project Leader Kate Beck, SafeTREC Co-Director Jill Cooper, Applications Program Manager Sang Hyouk Oum, and Applications Programmer Liwei Fu, earned a Golden Award.
Street Story, a free and public community engagement tool, allows residents, community organizations to collect information about transportation collisions, near-misses, general hazards and safe locations to travel.
The online interactive map and survey, where the public provide information about their transportation safety experiences, and maps and tables that display the data collected
 provide community members and groups with ways to easily and anonymously provide information about their transportation experiences, It also helps local community groups, city planners, and agencies collect and analyze community input about transportation safety in order to increase community involvement and improve community safety.
Street Story aligns with the University's mission of providing a public service and aims to improve usability and accessibility of community-sourced information by simplifying the processes used to collect this information, storing it in a publicly accessible database, and providing the data in usable formats (maps, tables, and charts).
It is available in all communities in California, and is readily implementable in other jurisdictions. The Street Story platform is currently well used on and around the UC Berkeley campus, and has the potential to aid campus administration to better understand locations where the campus community feels safe and unsafe.
The tool was created by a team of city planners, public health and social welfare researchers, engineers, and computer scientists at UC Berkeley's SafeTREC.