Bocsch.com talks with Susan Shaheen, ITS affiliate, Professor for Civil and Environmental Engineering and Co-Director of the Transportation Sustainability Research Center at the University of California, Berkeley about self-driving shuttle busses. 
Does the future of our everyday mobility lie in self-driving shuttle busses? Professor Susan Shaheen has looked into how this new form of mobility can be organized equitably for everybody. She says the transition on our roads has already begun.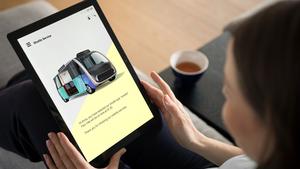 A smartphone is all one needs to be mobile in the cities of the future. Automated shuttle busses that take one either from door to door or to the next subway station can be booked 24/7 on an app.
'Most people will no longer need to own private cars in dense urban areas provided we design the mobility of the future in such a way so that it's accessible and therefore equitable for everybody,' says Professor Susan Shaheen from the University of California in Berkeley.
For several years now, Shaheen has been researching shared mobility and its influence on our everyday lives. She predicts that automated shuttle busses will be deployed in many major cities in Europe, North America and parts of Asia by the year 2025. The management consultancy Roland Berger estimates that about 2.5 million shuttle busses will be on the roads in Europe, USA and China alone. However, a lot has to happen beforehand — not only from a technological but from a social perspective as well.
                                                               2.5 million
shuttle busses will, according to a study by the Roland Berger consultancy, 
be on the roads in Europe, USA and China from 2025 onwards.
More mobility
Shaheen believes the shuttles will bring many advantages: 'At present, public transport connections in some neighborhoods are poor, like for instance in low-density environments. Self-driving shuttles have the potential to provide greater mobility to the people living there. The shuttles will also be more flexible and more frequent than regular busses or trains. Savings from reduced driver costs could also mean relatively inexpensive fare prices.'
In some areas in which bus and train services do not have frequent headways or service, shuttles could replace traditional forms of public transportation and save money. Many societal groups that, up until now, have had to battle with the disadvantages of public transport, according to Shaheen, could profit in particular from the shuttles. Such groups include wheelchair users but also night-shift workers who could more quickly and easily call a Robo taxi instead of waiting at the bus stop late at night.
Already in a state of transition
According to Shaheen, the mobile future has already begun in many towns and cities. Though rides in Robo taxis, like the ones offered by Lyft in Las Vegas, are still in the trial phase, shared mobility services, like Uber or SPLT, are in the meantime part of the everyday lives of many people. 'We're already observing a change in people's behavior,' says Shaheen. 'For many city dwellers, it's no longer important that they own private cars. Instead more are sharing vehicles with strangers.' On-demand mobility use will increase, in Shaheen's eyes, when self-driving shuttles are on the roads, particularly in urban areas. 
Travel behaviors will also change: 'For instance, passengers in self-driving shuttles will not have to concentrate on the traffic but can surf the net, read e-mail, work with colleagues on a presentation, or watch film,' says Shaheen.
'We cannot allow discrimination to take hold of algorithms and exclude people from mobility and automated transportation services.'
Susan Shaheen
Equitable mobility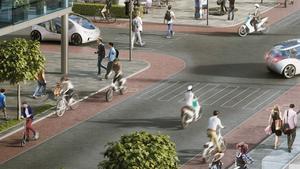 For Shaheen, social issues play an important role in the shuttle bus idea alongside the technical ones. It is why this transportation scientist developed the STEPS framework in 2016. STEPS stands for spatial, temporal, economic, physiological and social. It provides a framework for ensuring, identifying and addressing social equity gaps. This framework can also be applied to automated mobility to ensure equitable access for all groups in the population.
STEPS can be helpful at identifying some social barriers that might otherwise be overlooked. 'For instance, some people from different cultures may be less comfortable driving in a car with a stranger,' says Shaheen. 'There is empirical evidence that suggests that some of the already available on-demand ride services avoid low-income neighborhoods, and this can result in discriminatory practices.
We cannot allow discrimination to take a hold of algorithms and exclude people from mobility and automated transportation services. This also extends to race, age, and physiological barriers.' For instance, older adults or people with a disability might have challenges booking an automated shuttle on an app. And some people simply don't have the money to afford a smartphone with the latest apps. 'Ultimately, mobility services need to be as barrier-free as possible,' asserts Shaheen.
Look into the future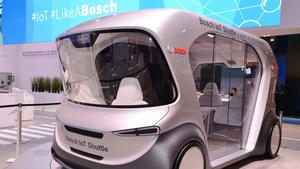 At the CES 2019 in Las Vegas, Bosch provided insights — with the electrically-powered IoT shuttle — as to what mobility might look like in the future. The presentation included a concept shuttle and associated services. The service could be used to book the shuttle, share it with other passengers, and settle up via ePayment. The IoT shuttle is connected with its environment. It communicates with other vehicles, localizes its position on the road with centimeter precision, and adapts its style of driving to the conditions around it.
There are screens for infotainment that every passenger can use. During the ride, families can watch a film together and work colleagues can share a presentation on the large main screen in the middle. The service, however, does not cease when a passenger disembarks.
Should somebody leave a bag or laptop in the vehicle, this is captured by a camera-based system that observes the vehicle's interior. The shuttle then informs the passenger directly by messaging his or her mobile. The cameras also notice whether coffee has been spilled or whether the shuttle requires cleaning, so it is spotless for the next journey.
Bosch IoT shuttle — Discover tomorrow's mobility
The Bosch IoT shuttle is a vision for tomorrow's mobility. Self-driving, electrified and with a huge range of infotainment options on board.
Summary
Automated shuttles will improve the mobility of many people. Critical to innovative transportation services is social equity, says Susan Shaheen. In presenting the IoT shuttle, Bosch has given people a vision for an automated, connected and electric vehicle service of the future.
Susan Shaheen, PhD
Professor for Civil and Environmental Engineering and Co-Director of the Transportation Sustainability Research Center at the University of California, Berkeley

Susan Shaheen is a pioneer and thought leader in future mobility strategies. She was among the first to observe, research, and write about changing dynamics in shared mobility and the likely scenarios through which automated driving will gain prominence. She is one of the first scientists to research the societal effects of carsharing and developed the ecosystem typology of shared mobility. It is why she is called the 'Mother of Shared Mobility'.