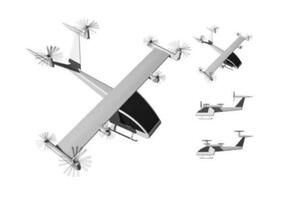 Congratulations to Civil and Environmental Engineering Professor Jasenka Rakas and her four students who won the Distinguished Paper Award at the 40th Digital  Avionics Systems Conference (DASC). The paper, titled eVTOL Fleet Selection Method for Vertiport Networks, analyzes the entire field of developing eVTOLs (electric Vertical Take-Off and Landing) and proposes a ranking method for these air vehicles in vertiport network routes. 
Other authors were: Jeffrey Jeung, Duston So and Paul Ambrose from the Civil and Environmental Engineering department; and Valeria Chupina from the Goldman School of Public Policy.
This research article is the first attempt to map the difference in various types of eVTOLs by creating a comprehensive database. By identifying correlations between important performance characteristics of different eVTOL categories, the team devised a benchmarking method for proposing an efficient eVTOL fleet for metropolitan areas. Urban Air Mobility (UAM) stakeholders can use this generic tool in different metropolitan areas to anticipate UAM deployment. 
The team presented their paper and findings at the conference on October 7, 2021.