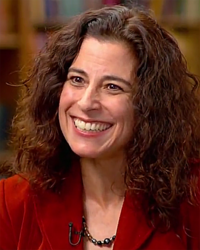 Webinar focuses on many imperative critical analyses for infrastructure megaprojects, provides a timely and fundamental overview / integration of the "Third Crossing" project.
Abstract
Focused on sustainable transportation, the Transformational Speaker Series ("Series") is proud to announce Dr. Karen Trapenberg Frick of UC Berkeley, as this month's presenter. The Series features the greatest minds in urban mobility, resilient infrastructure, and innovative transportation, and is a proud partnership between the pioneering sustainability publisher Island Press, the California Green Academy, and the blog TransportiCA.
Presenting from her much-acclaimed publication, Remaking the San Francisco-Oakland Bay Bridge: A Case of Shadowboxing with Nature (TransportiCA's Book Club selection), Dr. Trapenberg Frick will discuss the increasing importance of multifaceted discussions, critical analysis, and deep reflection for infrastructure megaprojects –i.e., high-speed rail and the 'second' Transbay crossing. Joining her will be two of her colleagues: Kate Michelle Beck–Policy & Program Analyst at the Safe Transportation Research and Education Center, and Edward "Teddy" Forscher– a doctoral student at Berkeley's Institute of Transportation Studies.
TransportiCA elected Remaking the San Francisco-Oakland Bay Bridge the September Book Club selection, as the publication is paramount in the consideration of infrastructure megaprojects.
"We are incredibly honored to welcome Dr. Trapenberg Frick and her colleagues to the Series. Her publication and work on the 'Third Crossing' project are, not only excellent technical documentations and critical analyses for megaprojects everywhere, but we are certain her book and project will become mandatory reading for infrastructure planning and engineering courses," stated Series Co-founder and CalGreen's Chief Sustainability Officer, Greg Justice.
This month's Series webinar takes place Friday, 28 September, from 11:00-12:30 PST, free to attend, and registration is available here. Follow the Series on Instagram, Twitter, and YouTube, and connect to our partners' social media in their descriptions below.
Friday, September 28, 2018 - 
Presenter
Karen Trapenberg Frick is an Associate Professor in the Department of City and Regional Planning at UC Berkeley and Director of the University of California Transportation Center. Her current research focuses on the politics of major infrastructure projects, tactical coalitions, and conservative views about planning and planners' responses. She is also the author of the book Remaking the San Francisco–Oakland Bay Bridge: A Case of Shadowboxing with Nature (Routledge/Taylor & Francis, 2016).