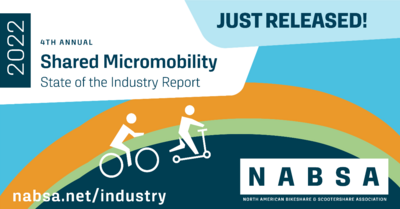 North American Bikeshare and Scootershare Association (NABSA), the nonprofit membership-based association representing public, private, and nonprofit organizations in shared micromobility, is pleased to present the fourth annual Shared Micromobility State of the Industry Report for North AmericaNABSA worked with Toole Design and the University of California Berkeley Transportation Sustainability Research Center to help develop the report.
The report shows that in 2022, shared micromobility ridership re-established itself to pre-pandemic levels, and reached the highest number of cities with systems and highest number of deployed vehicles across North America to date. The ecosystem of shared micromobility vehicles continued to evolve, with e-devices (e-scooters and e-bikes) growing in usage and popularity. This report tracks the trends, growth, and success of shared micromobility and presents new research demonstrating the impact of the industry across North America. 
Some exciting findings from the 2022 State of the Industry Report include:
At least 

157 million shared micromobility trips

 were taken across North America in 2022.
In 2022 there were shared micromobility 

systems in 401 cities and 289,000

 

vehicles in operation

 - both the highest to date.
E-bikes continued to thrive in 2022 and were present in 55% of North American cities. 

The number of trips taken on e-bikes increased from 18.8 million in 2021 to 30.9 million in 2022.

By replacing short car trips and making new trips with shared micromobility, 

riders gained an additional 18.7 million hours of physical activity.

Shared micromobility offset approximately 

74 million pounds (34 million kg) of CO₂ emissions by replacing auto trips.

Shared micromobility helped more people to access transit, with 

64% of riders stating that they use shared micromobility to connect to transit

 and 23% of all shared micromobility were to connect to transit.
Read more and find the report here.