Congratulations to Transportation Sustainability Research Center researchers Dr. Elliot Martin and Adam Cohen on earning Spot Awards!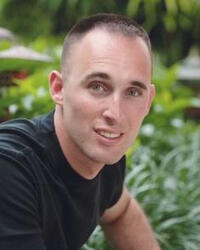 Adam Cohen, a Survey Researcher, was nomiaed in recognition of his outstanding efforts in advancing transportation research on Advanced Air Mobility. Within the past year, Adam co-organized a large Tech Transfer conference for Caltrans. The conference required many months of advanced planning, featuring 16 innovation sessions and more than 70 speakers representing diverse perspectives and professional backgrounds. The Future of Aviation Conference: Advancing Aerial Mobility through Technology advanced key research and policy discussions around environmental impacts, safety, security, equity, multimodal integration, and the role of government. The conference facilitated a lively dialogue among public-sector organizations, private companies, non-governmental organizations, and educational institutions. The conference fostered thoughtful discussions about the opportunities and challenges of planning, integrating, scaling, and governing advanced air mobility. Outcomes of the conference also were documented in a follow-on white paper. In addition to this work, Adam also volunteers his time to advance the transportation field, co-chairing the Transportation Research Board's Standing Subcommittee on Equity of Innovative Mobility Services and Technology and represents TSRC in numerous US Department of Transportation, National Aeronautics and Space Administration, Intelligent Transportation Society of America, SAE International, and American Society of Civil Engineers working groups and committees. Adam strives to use as many available opportunities to represent TSRC, ITS Berkeley. Because of these efforts, Adam fosters collaboration not only with UC Berkeley but also professionally with other partners. He has not only earned this Spot nomination but also the respect and gratitude of his colleagues, project partners, and peers at TSRC.
Elliot Martin, a Research and Development Engineer, was nominated for his work to advance research in shared micromobility systems (i.e., bikesharing and scooter sharing) and the industry through several efforts at TSRC. He has built research initiatives on the foundation of a uniquely developed shared micromobility trip activity dataset. These initiatives have contributed to insights pertaining to the measurement of shared micromobility's role in fostering public transit connections, evaluating social equity in the spatial distribution of shared micromobility vehicles, as well as modeling energy consumption of user trips with empirical observations of the change in state-of-charge by trip. The projects have been advanced in collaboration with the California Department of Transportation, the California Air Resources Board, and the Lawrence Berkeley National Lab. He has further worked with municipal agency and industry data to establish benchmarks and trends in the shared micromobility industry growth in partnership with Toole Design and the North American Bikeshare and Scootershare Association (NABSA). This work, now spanning several years, has supported the development of NABSA's Annual Report, which serves to inform the broader public on the state of the industry within the continent. Through each of these research efforts, Elliot has mentored and connected graduate and undergraduate students to the development of new data curation and augmentation, analysis, and publication development. The results of these efforts have contributed to the public knowledge of shared micromobility and research insights that build our understanding of shared micromobility's role within the transportation landscape.