COVID-19 has forever changed smart cities and urban mobility, and the Institute of Transportation Studies at UC Berkeley and the Oliver Wyman Forum tackled that challenge head-on in the third installment of the Global Mobility Executive Forum Sept. 29-30, 2020. Originally planned as an on campus event at UC Berkeley, the program shifted to a virtual platform.
The virtual global series, featuring keynote speakers Lt. Gov. Eleni Kounalakis (UC Berkeley alum) and New York City Transit Interim President Sarah E. Feinberg, is designed to build a community of mobility leaders.
"As we recognize how COVID-19 is affecting all areas of our lives, we were excited to share this forum with a broader audience virtually," says ITS Director and Electric Engineering and Computer Science Professor Alexandre Bayen. "I am very excited by the number of transportation experts we were able to gather."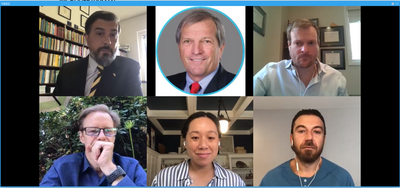 In addition to the keynote presentations, the program featured interactive panel discussions, and presentations about how recent events have shifted the evolution of urban mobility and smart cities and discusses how these changes will impact the future of mobility and what cities can do to prepare for the changes to come, led by ITS leaders:
Keynote Address: A look at California's Past and Future as it Charts a Path to a Cleaner Future by the Lieutenant Governor of California, Eleni Kounalakis with a Q&A led by Bayen: watch the video.
Expert Panel: Long-Term Implications for Mobility discussing how the mobility industry is pivoting as a result of recent events, the pace of the changes to come, and the long-term implications: Moderated by ITS Director Alexandre Bayen, and featuring Mark DeSaulnier, US Congressman, D-California; Jeff Peters, Partner, Autotech Ventures; Steve Pretre, World Innovation Lab (Partner); Metromile (Co-founder); Shin-pei Tsay, Director of Policy, Cities and Transportation, Uber; and Sam Zaid, Founder / CEO, Getaround.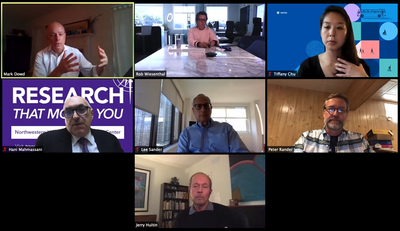 Presentation: Cities that are Paving the Way for Urban Mobility Readiness by Bayen on the ITS Berkeley OW Urban Mobility Readiness Index 2020.
Expert Panel: Mobility and Smart Cities discussing why mobility is essential to the design of smart cities and this dynamic has changed in recent months with moderator ITS Senior Fellow and New York Metropolitan Transportation Authority Chief Innovation Officer Mark Dowd, and featuring Tiffany Chu, CEO/Co-founder, Remix;  Jerry Hultin, Chairman / Co-founder, Global Futures Group; Prof. Hani Mahmassani, Chair of Transportation, Northwestern University; Peter  Rander, Co-founder / President, Argo AI; Lee Sander, President, Bombardier Americas; and Rob Wiesenthal, Founder / CEO, BLADE Urban Air Mobility.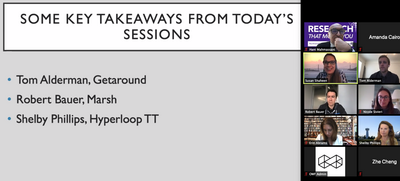 Breakout sessions:
Remaining Compliant with ITS Associate Director Daniel Rodriguez: How mobility regulation has led to the successes and pitfalls of government-led pilots and incentivization regulation
Fostering a Sharing Economy with Transportation Sustainability Research Center Co-Director Susan Shaheen: How sharing economy firms can work with public services and cities to regulate the sharing economy
Shifting from Tech Laggards to Enthusiasts with Bayen: The technologies that are most likely to disrupt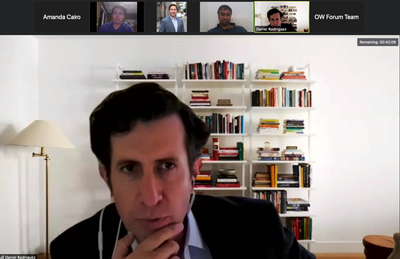 the livability of cities
For additional details, please click here.
The Forum also released the 2020 Urban Mobility Readiness Index, which rates infrastructure, innovation, and focus on preparedness, according to research by the Oliver Wyman Forum and The Institute of Transportation Studies at the University of California, Berkeley. Researchers analyzed cities across 55 metrics, including regulation, infrastructure, social impact, and the ability to adapt future technologies. This year's index added 20 cities, bringing the total to 50.
"Many cities around the world were at a tipping point, even before COVID and while we won't know the true impact on cities yet, the cities that ranked high are in a better position to meet future challenges," said Guillaume Thibault, an Oliver Wyman partner and one of the creators of the index.