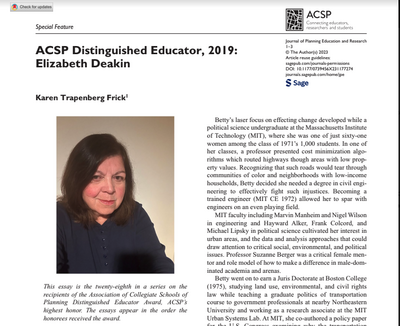 Department of City and Regional PLanning Professor Karen Trapenberg Frick recently authored the article ACSP Distinguished Educator, 2019: Elizabeth Deakin in Journal of Planning Education and Research
Excerpt:
This essay is the twenty-eighth in a series on the recipients of the Association of Collegiate Schools of Planning Distinguished Educator Award, ACSP's
highest honor. The essays appear in the order the honorees received the award.
"Say 'yes' loudly for the record," UC Berkeley Professor Elizabeth ("Betty") Deakin encouraged me, gesturing to the tape recorder during my response at a crowded, high-stakes public meeting. This was the early 1990s when tape recorders and fax machines were finicky workhorses of professional communication. It also was my first time overseeing a meeting as a newly minted planner for the Metropolitan Transportation Commission, the San Francisco Bay Area's metropolitan planning organization (MPO). Knowing it would be intense, Betty had carved out time to attend this meeting to provide personal support as well as to voice scholarly input—she forcefully set the record straight when speakers stated misconceptions about the controversial topic at hand, congestion pricing where bridge tolls could vary by the time of day. Her impactful nudge of being on the record while righting the record and affecting change is Betty par excellence, embodying her trifecta of scholar, educator, and mentor catalyzing confidence, broader awareness, and critical considerations in all with whom she interacts.
Read more: https://doi.org/10.1177/0739456X231177274