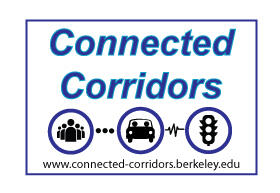 Connected Corridors (CC) was a collaborative program to research, develop, and test an Integrated Corridor Management (ICM) approach to managing transportation corridors in California. ICM views the corridor as a total system to be managed as an integrated and cohesive whole; it seeks to address the corridor's overall transportation needs rather than the needs of particular elements or agencies alone. The Connected Corridors team developed a state of the art model and Decision Support System for use on a pilot project on Interstate 210. The pilot is now being spearheaded by Caltrans District 7 and will be deployed in Spring 2022. 
CC I-210 Pilot Vision
Pilot the 1st Connected Corridors ICM on I-210 in Los Angeles.
Bring together corridor stakeholders to create an environment for mutual cooperation.
Develop and deploy the I-210 Pilot as the most instrumented, modeled, and sophisticated corridor in the nation.
Focus on reducing non-recurrent congestion through traffic reroute opportunities.
Develop the system for expansion to all modes and recurrent congestion improvements.
Provides a foundation for future improvements and advances in transportation management. 
CC I-210 Pilot Accomplishments
Analysis, Modeling and Simulation
Data quality improved to 80-90% for the entire corridor
Real-time traffic-state estimation
Calibrated microsimulation model
Response plan library
Scorecard process for decision making
Solid foundation for ICM deployment 
ICM Core System
Standardized TMDD interfaces with each jurisdiction's TMC (signals, ramps, sensing, signs), creating a library of multiple vendor products capable of communication with the Data Hub.
Data Hub scalable for any Caltrans district, providing storage and processing of data collected and incident management activities.
DSS for response plan development capable of operating in any corridor.
Corridor Management System providing full corridor situational awareness for all stakeholders.
Ability to deploy anywhere via AWS.
ICM Core System Capabilities
Real-time processing and storage of corridor data.
Traffic estimation for arterials and freeway.
Traffic prediction for response plan evaluation.
Response plan development and incident lifecycle management.
Repeatable solution for other regions, corridors, CT districts via AWS and deployment automation.
Configurable system to address local and regional differences.
Changeable workflows to manage pipelines and incident lifecycle.
Scalable solution for virtually any size implementation.